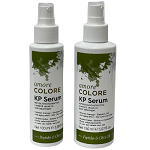 KP Serum
KP Serum
Peptide Reconstructor
3 Minute Leave-in
Hair Treatment
 Technology Breakthrough in a leave-In 3 Minute Hair Reconstructor Mask
Þ Contains a synergistic mix of protein derivatives & peptides that reconnect damaged keratin chains damaged from chemical services or the environment.
Þ Biomimetic peptide has an anti-aging effect, Filler effect, & provides a cementing     action on damaged keratin chains
Þ Vegetable keratin ceramides provide nourishment and body for smooth & shiny results
Þ Macadamia Oil is an emulsion that makes hair smooth, soft & light.
Þ Biometric Technology mimics the natural process of the formation and connection of   keratin chains that make hair immediately regenerated and flowing.
Benefits over other brands:
Works faster –improves hair elasticity, hair integrity and shine in 3 minutes
Cost per application is much lower
Works in one treatment to reverse damage and reduce frizz
No scalp irritation
Works on all Hair Types and all Hair Textures
Made in Italy with Olive Oil,
Only available to licensed Stylists and must be retailed by a Stylist—not on Amazon!
Vegan, Cruelty free, Color safe, etc
How to use:
Shampoo hair—no other conditioner needed
Towel dry hair
Apply a small amount starting from the tips working to the roots—about 1 to 3 pumps
Allow proper absorption for 3 to 5 minutes and do not rinse
Spray in Amore Colore 20X DeFrizz Leave In Conditioner
Style as always
---